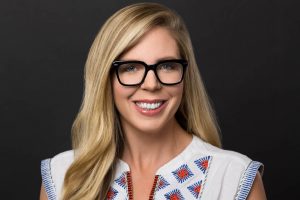 Colleen Harlan, Head of Creative, Brand Story (Google Hardware), San Francisco
Colleen's first obsession was a Commodore 64 – it was creative expression and limitless possibility in 8
beautiful bits. It's no big leap that she landed at Google where she currently leads a band of like-minded
storytellers and designers in her role as Google Hardware's Head of Creative for Brand Story.
Before joining Google in 2015, Colleen built her career as a writer and Creative Director at advertising
agencies in New York, San Francisco, and places in between. She spent the majority of her time at R/GA
NY where before departing, she co-led brand work for Nike.
Her work has been recognized with over 50 industry awards, including Cannes Lions, One Show and
D&AD Pencils, Andy and AICP Awards, and an Emmy nomination for Outstanding Commercial in 2017.
She lives in San Francisco with her husband and their dog, who after 15 years as a cocker-poo was
recently revealed by DNA testing to be mostly cocker and no poo.